On successful completion of the 6 Day course you will receive a Statement of Attainment certifying your completion of the National Recognised Training.
AHCPCM203 - Fell Small Trees
UETTDRVC34 Undertake release and rescue from a tree near live electrical apparatus
UETTDRVC21 Use climbing techniques to cut vegetation above ground near live electrical apparatus
AHCARB322 - Access trees for inspection (including AHCARB204A Undertake standard climbing techniques)
AHCPCM201A Recognise plants
This course is designed to be a short course where you learn the following skills and knowledge in a safe environment:
What will you learn?
Double Rope Climbing Technique
Single Rope Climbing Technique
How to use Spurs
Safely climb and trim back tree branches
Recognise different trees and application as a climbing arborist
Understand the requirements for working around the powerlines
Essential skills in climbing rescue of a cooworker in an emergency situation
Essential skills in quick descent techiques in cases of an emergency.
and much more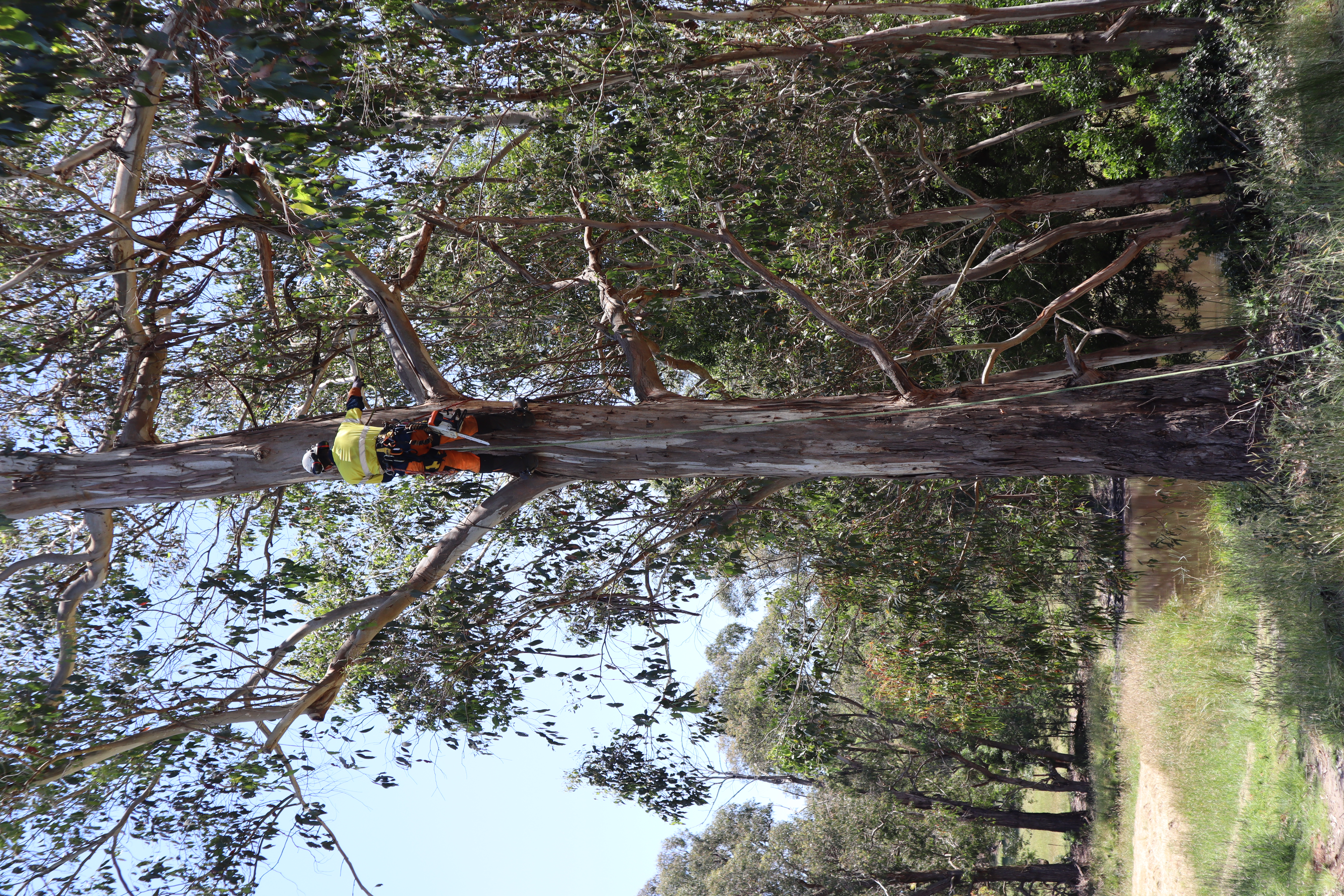 Theory Locations
With our Head Office based in Hallam at Norwood Industries we can provide quality training.
We have selected theory training rooms in Victoria:
Geelong
Hallam
Sunshine
Wantirna South
Yarra Valley
YEA
With 3 or more participants you can choose the location that best suits your organisation needs
For our list of Training Rooms in NSW, SA, TAS, NT, QLD and WA contact admin@dnatraining.com.au
Pratical Locations
For our practical location, our Trainers and Assessors take you hands on and out into the field to apply your knowledge and form your skills in climbing, cutting and working around the powerlines.
Macclesfield, VIC
We have 90 acres of lush land that we use in Macclesfield Victoria to provide you with a simulated workplace enrivornment.
YEA, VIC
The training location in YEA is surrounded by forest areas perfect to apply your skills and knowledge
Wodonga, NSW
Enjoy the clean fresh air as you gain access to over 2000 acres of beautiful rich land to apply your skills
Contact us today for more information on suitable training locations or if you would like to discover if training can be held at your premises.
We provide group training that tailors the training to suit your organisational needs.
We offer to train your staff in the correct use and technique with your equipment which will assist in minimising health and safety risks within the workplace.
Being professionally trained to ensure you and your team keeps on top of industry requirements
For a tailored training quote contact Belinda on 0405 781 459 or email belinda.t@dnatraining.com.au