On successful completion of the 2 Day course you will receive a Statement of Attainment certifying your completion of the National Recognised Training.
AHCPCM205 - Fell Small Trees
Unit Description: Learn how to prepare for tree felling, fell small trees and complete the felling operations where hazards have been assessed as low risk.
What will you learn?
Assist in Preperation of the worksite
Identify tree felling requirements
Prepare for tree felling
Fell Trees
Complete tree felling operations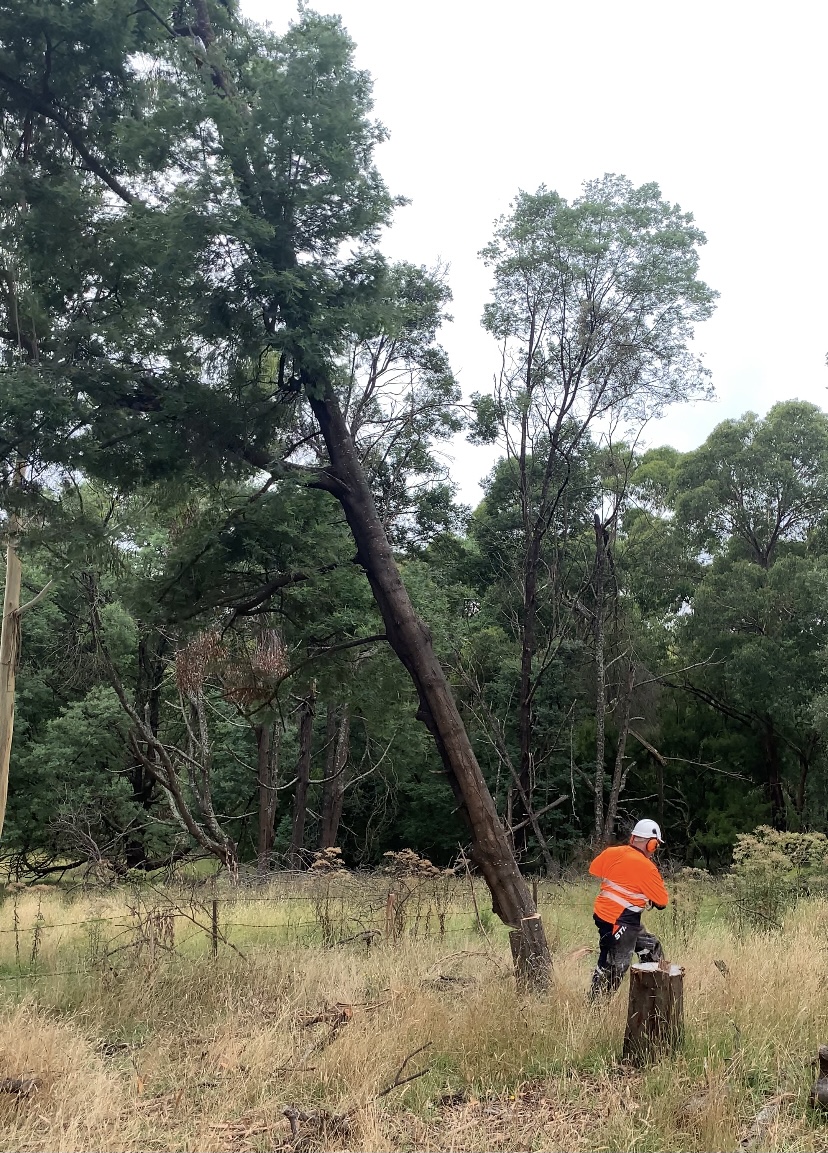 Location
We provide theory training in our offices which are located at level 1 Office 4, 6 Wedgewood Road, Hallm VIC
Practical Training Locations
Immerse yourself in the simulated training environment with DNA Training Solutions at over 200 acres of lush vegetation. We provide practical training location access all year round at our varies sights in the Yarra Ranges
Macclesfield
Avonsleigh
Gembrook
Gruyere
Beaconsfield
Practical Skills Formation is an important part of your learning journey so we take you off site to apply your skills under the safe direction of your Trainer and Assessor. We limit 6 student per Trainer and Assessor to ensure you have quality skill instruction and essential one on one time to formulate your technique.
WHAT TO BRING?
Please bring relevant PPE to your practical training days including the following items:
• Chaps
• Hard hat
• Safety glasses
• Hearing protection
• Cut class 5 gloves
• Sunscreen
• High Visibility Clothing
• Safety boots
Equipment
We use the STIHL MS 261 C-M Professional Chainsaws as our chainsaw of choice for forming your skills from the STIHL SHOP in DANDENONG
Theory Training Rooms
Our Theory Training Rooms are designed for comfort and easy access so that you can sit back and tune in to what the Trainers are guiding you through using our Projector along with each student receiving a copy of the Workbook so that you can easily keep track and follow along.
Our Training Room has access to DNA Trainings Student Wi-Fi so that you can go online in the Learner Portal to read through the digital Workbook at any time and complete your written assessments.
Group Training Events
Our Trainers and Assessors will come to your business to train your staff on your selected courses which we can tailor to suit your industry. When we train your staff on your site you will have the benefits of minimising risk in the workplace and have the knowledge that your employees can act
in case of an incident occurring to minimise the loss of lives or serious injury.
Contact us for your tailored group booking quote on 03 9070 1111 or email Belinda at belinda.t@dnatraining.com.au
We provide group training that tailors the training to suit your organisational needs.